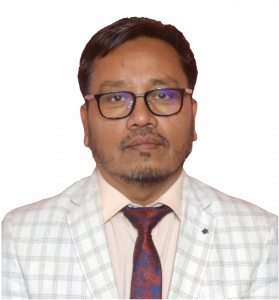 Principal: Dr Md Raheijuddin Sheikh
Educational Qualifications:
Doctorate in Physics from Gauhati University, Guwahati, Assam.
Master of Science in Physics from Manipur University, Canchipur, Manipur.
Bachelor of Science with Physics (Hons.) from D M College of Science, Imphal, Manipur.
Trained under the Australian TAFE Directors in the India-Australia Vocational Education Leadership Training (VELT) Programme
a) Work Experience includes Teaching, Research, Administration, Material Productions – Print, Audio, Audio-Visuals, Theatre, Skills Training, Anchoring & Scripting
Secretary to the Manipur State Minorities Commission (2009-2012) in addition to normal duties as Associate Professor in Physics at D M College of Science Imphal
Nodal Officer, D M Community College (March 2013- Sept 2020)
Regular Principal, Government Colleges appointed through direct recruitment for the first time and posted at Manipur College (Nov 2014- Feb 2016)
Director, Deen Dayal Upadhyay (DDU) Centre for KAUSHAL (Knowledge Acquisition and Upgradation of Skilled Human Abilities and Livelihood) under the UGC, New Delhi (Feb 2016 – Sept 2020) implemented at D M College of Science, DMU, Imphal
Regular Principal, Kakching Khunou College in addition to Director DDU Centre for KAUSHAL (Feb 2020-Aug 2020)
Regular Principal, Lilong Haoreibi College (Sept 2020 –Aug 2023)
Regular Principal, Moirang College (Aug 2023 – till date)
b) Supervisor of PhD Research Scholars under Manipur University in the areas of Material/PhysicalSciences & Physics for Cultural Heritage
c) Materials/Materials Productions:
Print materials:
Authored a Manipuri Short Stories Book: Awaba Sheishak (published with grants by Manipur State Kala Akademi, Imphal, Manipur, 1985)
Edited a Multidisciplinary Journal: The Mirror (DM College of Science, Imphal Publications, 2010)
Authored research-based book: Physics for Cultural Heritage (Ruby Press & Co. New Delhi, India, 2013)
Authored ManipuriPlay: Khongu Nangi Banshi (won the first prize in the All-India Competition for Radioplaywrights, 2000, reprint in 2014)
Authored research-based book: Scientific Methods for Cultural Heritage Research (DM College of Science Publications, Imphal, Manipur, 2015)
Co-authored research-based book: Mass Media in Conflict Zones (Ruby Press & Co. New Delhi, 2017)
Edited skill-based vocational training book: Man with Machines (DM College of Science Publications, 2018)
Authored academic book: Unlocking Locks under Lockdowns (Lilong Haoreibi College Publications, 2021)
Authored children's knowledge-based Manipuri short stories book: Ei Shamu Amasung Nanaomacha (Writers Union Imphal, Manipur, 2022)
Authored Manipuri Play based on the supreme sacrifice of an unsung hero during the Anglo-Manipur War of 1891: Dasu Sardar (Writers Union, Imphal, Manipur, 2023)
Audio-visual:
Scripted and aired 13 episodes of the Family Serial Play: Nattung Illakke (All India Radio Imphal, 1997)
Scripted and aired 13 episodes of the Radio Science Serial Play: Thawanmichakki Lamdamda(under the Vigyan Prasar DST, New Delhi in connection with the celebration of the International Year of Astronomy, IYA 2009 and broadcast over All India Radio Imphal, 2010)
Anchored & produced the fortnightly science news update: Thakhaisida Science, aired from the ISTV Networks, Imphal, 2016 -2020
Scripted and produced the Short Film: The Locks (nominated by the EMMRC, Manipur University for the UGC short film competition on Anti-raging, 2019)
Voiceover for over a hundred short films which includes educational documentary films
Welcome to Moirang College an institution that stands calm with a bountiful campus area of about 30 acres of land near the Lord Thangjing, a sacred place for the Manipuri people; shining with all the cultural ethos of the people at the periphery of Loktak Lake; about 45 kilometers from the capital city of Imphal; surrounded by the historical places like Sendra Tourist Home, Thanga and Karang Islands, Keibul Lamjao National Park, the home of the only species in the World called Sangai, a brow-antlered deer dancing on the floating weeds, the INA complex where the flag of the Indian National Army was first hoisted on April 14, 1944.
I love to serve the people and be friends with the youths of the place!